Try before you buy!
Sample up to 20% of our course for free and experience our unique pedagogy. Buy it only if the course content suits you.
Click on the courses below to sample them...
Who teaches at PiVerb?
Did you have that one math teacher who struck a chord when you were young? We at PiVerb hope we can be that companion, not just for one year but throughout.
Rajesh Balasubramanian
Rajesh Sir (IIT Madras, IIM Bangalore Alumni) has over two decades' experience teaching math and has scored the 100th percentile in CAT on 4 different occasions. He passionately believes that with online math classes, the difference in quality of math teaching across the country can be bridged by having a well-designed program accessible to all.

For this course, he has painstakingly built content over 4 years with questions that closely run along the school math syllabus for class 6, class 7, class 8, and class 9. A big believer in rigor, he has also ensured each math topic has no fewer than 100 exercise questions!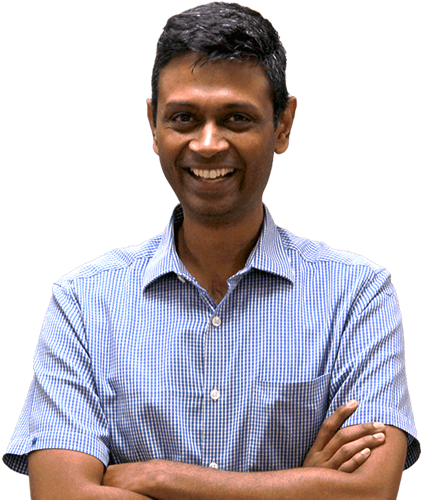 What you get with PiVerb Basics
Why our students love us...

Better Grades
PiVerb Basics' comprehensive program helps students improve their math grades through a unique pedagogy and 1000+ practice questions that supplement the math concepts taught in school.

Rajesh Sir
Every single math class is taken by Rajesh sir ensuring consistency and course quality.

Comprehensive Course
Detailed explanation for every concept in the math textbook helps students grasp concepts effectively.

Practice Tests
Over 1000+ test questions for each math chapter ensures students practice what they learn. PiVerb's unique slideo (slide + video) content format provides detailed solutions to every question.
Learn at your own pace
Fully online math course enables class 6, class 7, class 8, and class 9 students to move through the math textbook content comfortably without the pressure of the teacher rushing through a class.
Sample content from the Piverb Basics Course
Choose a plan that best fits you...
12 months or 3 months- take your pick. If you are a math enthusiast keen to learn math beyond school syllabus, click & head out to this page.
Hear it from our Students and Parents
Frequently Asked Questions
The course caters to students of which grade?
Any student interested in improving their math grades from class 6, class 7, class 8, and class 9 is likely to get maximum value from the course content
Is the syllabus required for the course same as school's?
The syllabus will absolutely be the same as that of school's. The main focus of PiVerb will be to improve students' grasp of math concepts and make math fun to help them improve their grades at school. Entire math syllabus is split chapter wise for ease of consumption. Students can read each chapter parallel to their school math curriculum.
Are there any classroom-classes?
Classes are delivered through any device with Internet access, PC/Laptop/Mac's/Android/iOS. We believe that with online math classes, the difference in quality of math teaching across the country can be bridged by having a well-designed program accessible to all.
How is the course structured?
Students can opt for either the 12-month PiVerb Basics Plan or the 3-month PiVerb Basics Plan. The course is delivered completely online giving students the convenience of consuming math syllabus anywhere, anytime. Complete math syllabus is presented in a unique slide+video format mimicking the classroom blackboard environment. All theoretical math concepts are explained by Rajesh Sir (IIT Madras, IIM Bangalore alumni with over 2 decades of teaching experience) over a video. This is supported by slides for revision. Math classes for the entire year are available at the start of the year ensuring that students can consume and revise the content at their own pace and time as per their school schedule. All math chapters have checkpoint math quizzes that test a particular sub-topic. There will also be chapter end math tests with HOTS questions. Every math quiz will have detailed solutions for students to learn from and detailed analytics is provided to help students improve their math grades. Discussion boards help students clarify their math doubts within 48 hours.
Can I try out the course for free before I buy it?
Absolutely! We encourage you to sample up to 20% of the course content for free to see if it suits you before you purchase it.
What is the Summer camp mentioned about in the website?
Our summer camp is a series of online live classes that will happen in the second half of April, 2021. The summer camp is an excellent opportunity for you and your child to experience what PiVerb is all about. If your child is able to enjoy the live classes and take value, then you can be more confident signing up for the 1 year course.
How is the summer camp and the full year course different ?
The summer camp is a one time initiative with a series of live classes in April. The full time course is valid for the full academic year and has a huge collection of recorded videos in addition to the weekly live classes. Thus the summer camp is a trailer to the main picture that is the full 1 year course.
How long is the course valid?
We offer a 12-month pricing plan at INR 4,999 and a 3-month pricing plan at INR 1,999. The course validity depends on the plan the student is enrolled in.
What are the devices in which the course can be viewed on?
The course content can be viewed on any device with a google chrome browser. To drive attentiveness, we suggest students to view the content on a desktop/laptop with a chrome browser. However, if your children should see it on mobile, our apps are live on google app-store from where it can be downloaded and consumed.
How can my child get his/her doubts clarified ?
PiVerb Basics' interface offers a discussion board feature through which students can post their doubts and have them clarified within 48 hours. It is an excellent avenue for students to discuss their queries regarding any math chapter or question.
Are there video solutions for all questions?
Yes, it is something that we take pride in. Every question that is available in the course is taught through videos, by a single Faculty, Rajesh Balasubramanian, an IIT Madras and IIM Bangalore alumni with 2 decades of experience teaching math.
What is the cost of the course?
We offer a 12-month pricing plan at INR 4,999 and a 3-month pricing plan at INR 1,999.
What is the course fee for the summer camp?
INR 4000
Syllabus for which board is followed – CBSE or State Board (Which state?) or Matriculation?
Ideas covered are standard and are based on NCERT as guidelines. However, all boards have similar ideas discussed through math, and the course can be customised to suit any board.
I have some more questions/I want to register- How do I reach out?
You can call/whatsapp us on +91 9445948484 or email to us at learn@piverb.com. We will respond within 24 hours to any queries that you have.
Do you cover theory also?
Yes, we cover math theory for class 6, class 7, class 8, and class 9 by starting from the basics of every concept.